LSA Autonomous Systems Lab main research area is field robotics applied to oceanographic and environmental monitoring, security and transportation. The research ranges from distributed control, navigation and coordination to embedded real-time systems design, encompassing advanced sensing and perception.
Research activity is pursued in the context of R&D programmes and projects in the cited areas. These lines of development are strutured on autonomous robotic systems application lines and specific scientific and technological challenges. Our current main projects are :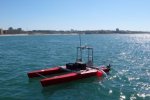 Hipersea
Ver mais informação aqui.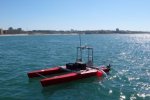 Sidenav
Ver mais informação aqui.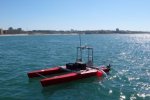 Deepfloat
Ver mais informação aqui.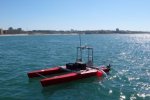 ROAZ - Autonomous Surface Vehicles
The ROAZ Autonomous Surface Vehicle (ASV) research program, focuses on marine robotics systems, namely design issues in surface autonomous robots, navigation and control problems, multiple (and eventually heterogenous) robot coordination and envirnmental perception questions.
more >>>
FALCOS - Autonomous Aerial Vehicles
The FALCOS UAV systems are developed for low altitude, mainly civilian applications such as forest fire prevention, security, environmental monitoring or aerial imagery.
more >>>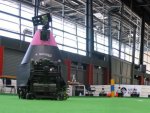 ISePorto - Robocup MSL Robotic Soccer Team
ISePorto Team is a robotic soccer team in the Robocup MSL league. Mobile robot control, distributed navigation and multible robot coordination are research areas pursued in this project.
more >>>
LSAVision - Real Time Robotic Vision
This project addresses the development of real-time computer vision algorithms and techniques suitable for robotic perception tasks with low computational and energy requirements. Also unde research is the development of parallel hardware implementations and the combination or hardware/firmware/software solutions for artificial vision in autonomous robotic applications.
more >>>
LINCE Rover - Land Intelligent Navigation Cooperative Explorer
This project concerns the research on ground mobile robotics for cooperative exploration. Issues on the use of multiple autonomous coordinated robots to perform missions in uncertain, unstructured and varying conditions scenarios such as urban catastrophe environments or in outdoor low accessible areas. The use of multiple robots is considered also in the context of autonomously and with redundancy being capable of establishing communications or extending communications support.
more >>>
SEATS
This project addresses the issues related with the use of autonomous systems for transportation in structured environments such as urban areas or industrial facilities. Control and navigation problems are addressed along with energy management, generation and fleet mission control. Human interaction is also under consideration since the vehicles operate in multiple modes varying from teleoperation to full autonomous.
more >>>