We had the pleasure to have with us at LSA-ISEP Prof. Peter Corke from QUT (Australia) for a short visit from 23 to 27 Feb. 2010.
Peter Corke is professor of robotics at Queenland University of Technology, is editor-in-chief of IEEE Robotics & Automation Magazine, editor and founder of renowed inernational robotics publications as the Journal of Field Robotics or the International Journal of Robotics Research. Previously it was the founder and leading of a x-CSIRO research theme in wireless sensor networks and founding Research Director of the Autonomous Systems Laboratory at CSIRO.
We had the priviledge to discuss reasearch issues with him, take experienced advices and discuss forms of future collaboration.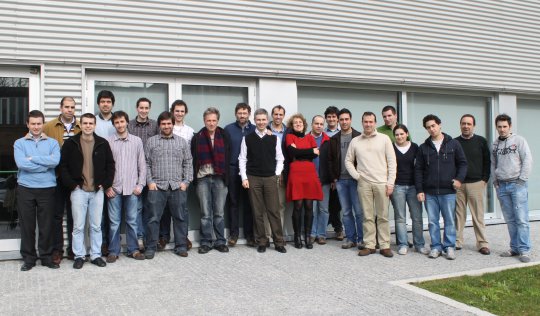 On the ocasion of the 30th edition of Fantasporto - Oporto International Film Festival (this year dedicated to Robotics) prof. Corke was invited to give a public talk on robotics in a parallel track of the festival. More information on the event, and photos can be found here.
Some more photos from his visit to Oporto.



With Hugo and Nuno at LSA




Group photo at LSA


Rivoli theatre

Rivoli theatre 2

Before Fantasporto Opening Cerimony


TV interview at Fantasporto

Tv invterview at Fantasporto

Press conference at Fantasporto

Talk at Fantasporto

Talk at Fantasporto

Talk at Fantasporto

With Nuno in Ribeira

Peter and Hugo

Peter and André

Talk at Fantasporto