Mission
Multiple marine vehicle mission performed in Monterey in cooperation with the Naval Postgraduate School.
The mission aims to test and perform multiple vehicle operations involving surface vehicles and various autonomous underwater vehicles. Communication experiments and vehicle coordination were performed. The mission was integrated in the PISCIS project work.
A joint team from USTL - FEUP and LSA-ISEP from Portugal, led by João Sousa (FEUP) will be participating along with the NPS Center for Autonomous Vehicle Research personel directed by Pof. Anthony Healey.
The FEUP AUV vehicle ISURUS will be used along with NPS vehicles namely the Aries AUV.
Portuguese Team:
João Sousa (FEUP - Team Leader)

Luís Madureira (USTL-FEUP)

Alexandre Sousa (USTL-FEUP)

Márcio Santos (USTL-FEUP)

José Pinto (USTL-FEUP)

Hugo Ferreira (LSA-ISEP)
Day 8 - 27 Oct
Success! Both vehicles performed missions and performed an underwater rendevous, with acoustic transmission of mission gathered data during a close paralell course.
Team Photo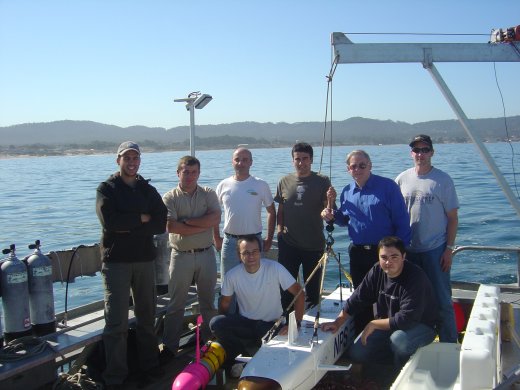 Aries AUY track plot with multiple ISURUS AUV rendevous (on top) and returning to loittering box on bottom
Close-up of ISURUS track plot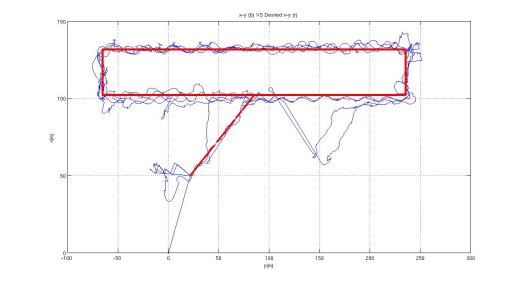 Day 7 - 26 Oct
Isurus and Aries AUVs performed several missions on Monterey Bay.
Luis and Hugo preparing acustic tests
Day 6 - 25 Oct
Mission with ISURUS and Aries on Monterey Bay.
ISURUS and Aries on water ready to start mission
Aries and ISURUS on board of Cypress Sea
Day 5 - 24 Oct
8 Missions were performed with ISURUS vehicle on Monterey Bay
Some minor problems encountered in the acoustic transponders yesterday were solved and it worked well today.
Day 4 - 23 Oct
Tests with ISURUS vehicle in Monterey Harbour
Wifi setup on field and tests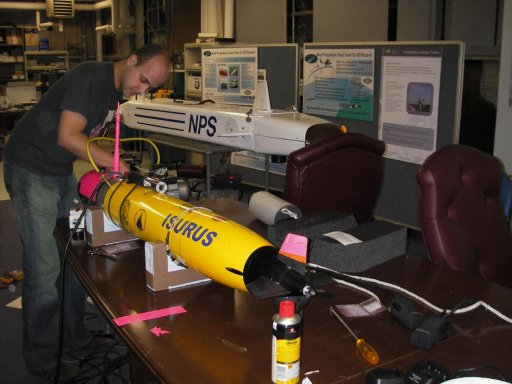 Alex overseeing ISURUS, much prettier now in PINK :)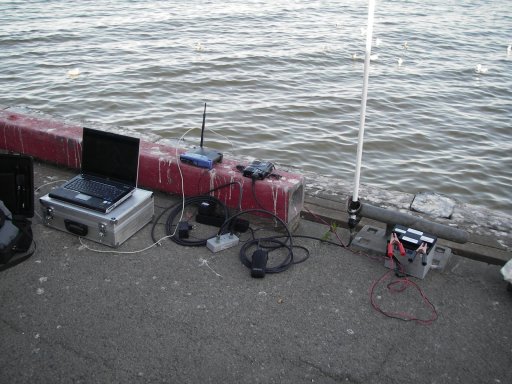 Shore setup in Monterey Harbour
Luis inspecting acoustic transponders and Alex working much faster :)
Day 3 - 22 Oct
Tests with acoustic modems
Work with Sean preparing lab tests with both vehicles (Aries, Isurus).
Lab battery charging setup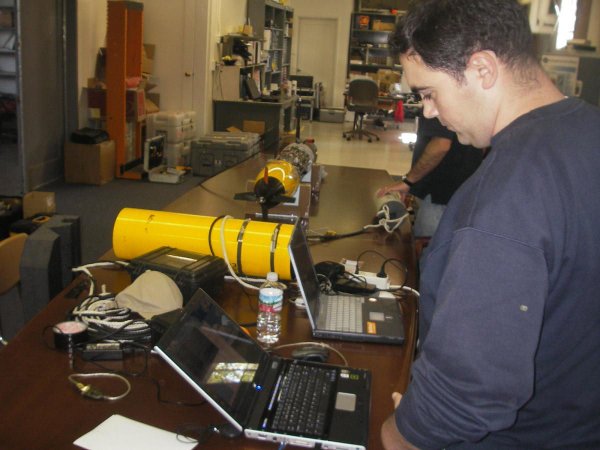 Zé Pinto overlooking software tests
Day 2 - 21 Oct
Finally all team members arrived. Setup was concluded.
João with Hugo and Zé Pinto
Hugo with the two AUVs (Aries and ISURUS)
Day 1 - 20 Oct
Part of the portuguese team schedulled to arrive today at Monterey was delayed in Denver...
Hugo working, even on this distressfull moments...
Márcio and Hugo on the plane